Jambo! Welcome to Disney's Animal Kingdom, where the magic of adventure and exploration can be explored in a day. Like the rest of the parks on Disney property, Animal Kingdom is home to a host of Hidden Mickeys – you know, those circular-shaped heads and ears that Imagineers sneak into the construction of the Disney theme parks? Here are the best Hidden Mickeys in Animal Kingdom:
1. Tree of Life
The Tree of Life is an icon at Disney's Animal Kingdom, with over 300 animals carved into it. Next time you're visiting up close and personal with it, check out the details on the hippo carving. Right above his eye, you'll see an upside-down Hidden Mickey!
Not only is the Tree of Life home to this Hidden Mickey, but it's chock full of other secrets. Did you know that the Tree of Life is actually made from a giant oil rig? Or that it has 8,000 branches? Leave it to Disney to craft something so brilliant out of something so simple.
Read more: Fun Animal Kingdom Facts
2. Tusker House
Next time you're visiting the continent of Africa, be sure to stop by the Tusker House Restaurant. While we highly recommend dining here so you can enjoy the restaurant's bold African flavors, we also recommend it if you want to find this restaurant's Hidden Mickey. Once inside the restaurant, look for a sign that says whether drivers are available; the driver at the top of the list has a Hidden Mickey next to his name. Does that mean Mickey Mouse is secretly the driver!?
Read more: Tusker House Dinner Review
3. Expedition Everest
Let's head on over to Asia to #getthatyeti. There are actually three Hidden Mickeys throughout Expedition Everest (that we've noticed so far, anyway). First, when you're in the queue line looking at all the expedition equipment and artifacts, look for the bear standing on its two hind legs. The bear's ears sport a familiar shape!
Second, as you make your way through the last hallway before you load your ride vehicle, look for a photo of a woman holding a radio. In the grain of the wood, there's a Hidden Sorcerer Mickey.
Last but not least, even though you won't be able to see it on the ride, the track for Expedition Everest is actually one giant Hidden Mickey itself. Head on over to Google to find an aerial shot of the ride to find this Hidden Mickey.
Read more: Things you Probably Never Knew About Expedition Everest
4. Dinosaur
If you're like me, you may have missed this one considering your eyes may be closed the entire time (this ride terrifies me), however, next time you board your Time Rover, look for the whiteboard on the left-hand side right before you start your time travel. This board contains a Hidden Mickey!
Read more: Disney World Rides that May be too Scary for Kids
5. DinoLand U.S.A
Staying in DinoLand U.S.A, be sure to keep an eye on the pavement near Chester & Hester's Din-O-Rama. Tucked in between one of the lines of a parking space inside the carnival area, you'll find this section's Hidden Mickey. There also used to be one located in Primeval Whirl, but that ride was officially demolished in 2021.
While you're here, try your luck at some of the carnival games to see if you win some cute prizes like a stuffed Mickey Mouse or dinosaur.
6. Maharajah Jungle Trek
The next Hidden Mickey can be found in the wall carvings in the Maharajah Jungle Trek. Keep an eye out for the carving of a man wearing earrings; you'll notice that one of those earrings is a Hidden Mickey!
Guests will also see another Hidden Mickey as they venture through the temple ruins. Look for the mural with the mountain ranges; inside the mountains is another Hidden Mickey!
7. Kilimanjaro Safaris
Kilimanjaro Safaris has one of the coolest Hidden Mickeys. As you pass the island with all the flamingos, try to pay attention to the actual island as it is in the shape of a Hidden Mickey! Since the island is covered in flamingos, you may have to ride this a few times to catch this Hidden Mickey, but honestly, there's nothing wrong with that, right?
Read more: Exhaustive Guide to Animal Kingdom Rides
8. Kali River Rapids
While you may be too busy putting on your poncho before you embark, try to keep an eye out for the Hidden Mickey tucked away in the Kali River Rapids ride. When you enter the first room in the queue ride, look for three pots hanging from the ceiling. They're in the classic shape of Mickey Mouse!
One of the newer Hidden Mickeys can be found in the Na'vi River Journey located in Pandora – The World of Avatar. As you near the end of the ride and come across the Shaman (which is one of the coolest, most fluid animatronics outside of Galaxy's Edge), look at her shaw. It features a Hidden Mickey on it.
Read more: What to Expect at Animal Kingdom's Pandora The World of Avatar
10. Finding Nemo – The Musical
On the sign outside of Finding Nemo – The Musical, you'll see a Hidden Mickey formed from the bubbles on the right side corner. With the news that Finding Nemo – The Musical will be updated to Finding Nemo: The Big Blue…and Beyond sometime in 2022, we can't say for sure that this Hidden Mickey will still be there, but we feel confident Imagineers will find some way to incorporate one when the new show opens.
What's Your Favorite Hidden Mickey in Animal Kingdom?
What I think is so cool about Animal Kingdom is that the Hidden Mickeys are spread out, so if you're on the hunt for them, it gives you an excellent opportunity to explore everything Animal Kingdom has to offer.
So far, Disney hasn't released an official list of all the Hidden Mickeys at Animal Kingdom (or any of the other parks), so I'm sure there are many more that aren't accounted for. Did your favorite Hidden Mickey in Animal Kingdom make the list? Let us know in the comments and don't forget to follow us on Instagram for all the latest Disney tips and tricks and what you can expect at all the parks in 2022.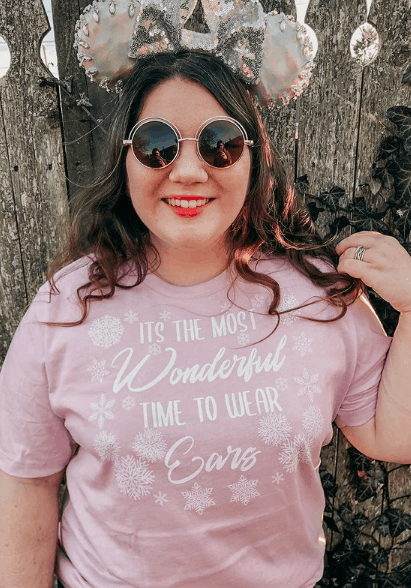 As a self-proclaimed Mouseketeer, Courtney Dercqu is a fan of all things Disney. Between decorating her desk with souvenirs from the park, to making unique mouse ears and having a dedicated Disney Instagram, Courtney is a true believer in the magic of a Walt Disney World vacation. Having had more than 200 articles published on various content, Courtney's excited to share her knowledge and experience with everyone! Be sure to follow her on Instagram for all the Disney magic.
Need More Help Planning Your Vacation?
A travel agent is an essential resource when planning a vacation. Reach out to Magical Travel and they will make sure your vacation is pure magic and no stress! Their services are 100% FREE to you!